Now that we've caught our breath after birthing the new menu, we're pushing farther and asking ourselves how we can do better. This summer, we are lightening the environmental footprint of our physical operations in a number of ways—starting with asking our customers to bring their own containers for take out. We will be charging an additional $1 to take out orders for every small container and $3 for every large tray used to package Miya's orders. If you bring your own container in there will be no charge applied! Packaging waste is only a small portion of the overall impact of a product, but it is the most visceral for most consumers and a common source of inspiration to improve. We hope that this small change on our part will start to encourage all of you to rethink your choices. While you're at it, check out the Story of Change video and start working together to create a positive vision for the world!
On this theme, in the coming weeks we'll be kicking off a composting program with Waldingfield Farm and working with United Illuminating to make Miya's more energy efficient. More to come on this soon! (post by Ariana Bain)
Every year, Americans throw out enough paper and plastic cups, forks and spoons to encircle the Earth 300 times.  Every year American use over 1 billion shopping bags, creating 300, 00 tons of landfill waste - Clean Air Council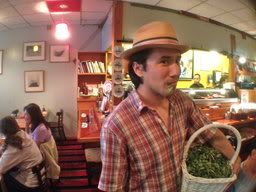 Justin Freiberg, one of Yale School of Forestry's most esteemed alumnae, with a gift of wild purslane for our salad.  There are many types of weeds that are healthier to eat than most vegetables you can find at the market.
(Source: miyassushi.com)
x1410 likes this
luwanwan likes this
steveharveyoswald likes this
bunlai posted this